Central Coast Cleaning Service FAQ
What types of cleaning services are available on the Central Coast?
There are many types of cleaning services on the Central Coast. Many professional companies offer an extensive range of services, including:
Roof cleaning
Deck and patio cleaning
Siding and trim cleaning
Pool surrounds
Pergola cleaning
Brick cleaning
If you are looking for quality cleaning services on the Central Coast, it is important to research local companies to find the one that best suits your needs. It is also essential to ensure that the company you choose is properly insured and licensed. Finally, make sure the company has a good reputation and is experienced in the type of cleaning service that you require.
By researching and comparing different companies, you can find the one that offers a quality and affordable service. This will help to ensure your house is cleaned correctly and that you are satisfied with the results. Your house is your most valuable asset; only trust it in the hands of a firm with the necessary experience and professionalism.
All Coast House Washing is a family-owned and operated business. So we go the extra mile to ensure you are happy with all aspects of our work.
We are fully insured and never cut corners. Our pressure cleaning techniques are tested and proven and have been perfected over the years.
Our pressure washing systems are effective at cleaning all types of hard surfaces. We regularly clean bricks, weatherboard, pavers, cladding, concrete, and more. Contact us for a no-obligation FREE quote.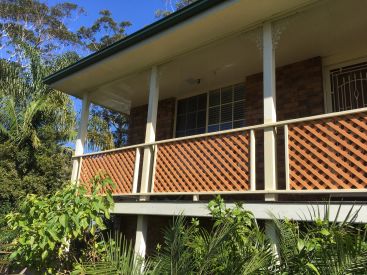 Are the cleaning products used by Central Coast cleaning companies safe and environmentally friendly?
Yes, many cleaning companies use cleaning products that are safe and environmentally friendly. In addition, some companies use green cleaning products specifically formulated to be safe for the environment and health. E.g. All Coast House Washing use eco-friendly, non-toxic anti-fungal treatments. Our products kill the different types of bacteria found in mould but do not damage your vegetation or harm your pets.
It is important to check with the cleaning company you are going to use to ensure they use safe and environmentally friendly products. Unfortunately, many cleaning companies are still using traditional, chemical-laden products. If you want a Central Coast cleaning service that only uses environmentally friendly cleaning products, give us a call today at 0418 467 294.
Can I request specific tasks to be completed during a cleaning service on the Central Coast?
Most cleaning services on the Central Coast offer specific services. However, sometimes it is better and more cost-effective to combine services. E.g. you may need your house washing and your driveway.
It makes sense to get them both done simultaneously rather than hire someone to come out twice.
If you plan to combine services, it is best to let your cleaning services company know in advance so they can plan accordingly. They may need to bring specific cleaning products or equipment for each job. Here are some of the services offered by All Coast House Washing:
House washing
High-pressure washing
Paver cleaning
Pressure cleaning
Carpark pressure washing
Mould removal
Commercial pressure cleaning
Asphalt pressure cleaning
Tiled area cleaning
For a free quote, contact us today at 0418 467 294.
Can I request regular cleaning services on the Central Coast?
It is always best practice to hire regular cleaning services on the Central Coast. The benefits of using the same firm regularly are that they get to know your property and so know of any problems or damage. This leads them to take extra care in certain areas and prevent even more damage. They also know what was cleaned last time and how to tackle the job much more quickly.
It is important to clean your house and property regularly to prevent decay and damage. Not only does this make a good impression on friends, family and neighbours, but it also helps to decrease the property's devaluation.
It is easy to forget to clean the driveway or schedule a patio cleaning in our busy world. All Coast House Washing offers a regular reminder system. This means you never forget or overlook that cleaning job. We schedule you in when we complete a job and send you a reminder so you can see if it is a convenient time.
Do I need to be home during the cleaning service on the Central Coast?
You do not need to be home during our cleaning services. All our services are external, so we do not need access to your home/workplace. However, if your property is gated, then we will need to be able to reach the property, and this will be arranged beforehand.

Why choose All Coast House Washing cleaning services on the Central Coast?
We live near you. As a locally owned and operated business, we understand the cleaning issues faced by our neighbours. We also know how damaging a bad reputation can be. We have strived over the years and have achieved an excellent reputation in Kincumber, Gosford, Holgate, Tuggerah and all over the Central Coast.
Our results speak for themselves, and our first-rate customer service will show you why we have so many repeat customers. We provide outstanding service at competitive rates. We take pride in our work and have a great eye for detail. In addition, our cleaning techniques and products are environmentally friendly, safe and non-toxic.
Our cleaning services are provided to residential, strata and commercial properties all over the Central Coast. We service areas such as Avoca Beach, Berkeley Vale, Blue Haven, Bateau Bay, Davistown, Green Point, The Entrance, Ettalong Beach, Killarney Vale, Mannering Park, Moonee, North Avoca, Umina Beach, Woy Woy and Wyong.
We provide tailor-made cleaning services to suit your needs. These could be one-off clean or regular cleaning services. Our wide range of satisfied commercial, residential and strata customers truly value our services and keep coming back repeatedly. So if you would like to become one of our valued customers, call us today on 0418 467 294 for a FREE quote.
Have a question about Central Coast cleaning that's not answered here? Then fill out the following contact form, and we'll answer your question
FAQ
Contact Us For A Free Quote:
Greg Andrews mobile direct: